About the Menlo Brass
The Menlo Brass Quintet enjoys a reputation as one of the San Francisco Bay Area's finest brass quintets, known for outstanding musicianship and the unparalleled diversity of their repertoire featuring more than 900 compositions, including over 100 original pieces, performed for the enjoyment of over 475 concert and special event audiences. The group performs a wide variety of music, from Baroque and Classical, to Broadway musicals, popular tunes, Dixieland, and jazz.
The Menlo Brass Quintet was founded in 1982. They have been the featured group in many local concert series, at conventions, and on local radio. They have performed together with several premier vocal groups of the San Francisco Bay Area. The Quintet provided music for the inaugurations of the President of Stanford University and the Chancellor of the University of California at Santa Cruz, and twice performed Gunther Schuller's Diptych for Brass Quintet and Concert Band with the Stanford Symphonic Band. The Menlo Brass were featured in the Stanford University Centennial Celebration and, starting in 1996, have played at every Commencement Ceremony at Stanford University. They have given concerts for a number of local schools, introducing students to the charms of music and the pleasure of playing in ensembles, particularly on brass instruments!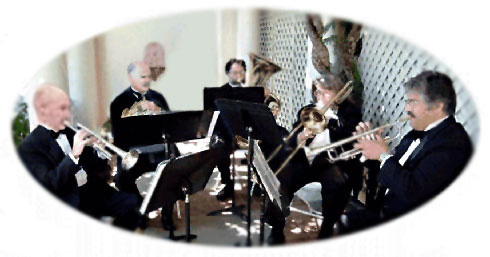 In keeping with their interest in new music as well as the classics, the Quintet commissioned and premiered Chris Dedrick's A Simpler Life. In 2001, they performed an entire concert featuring the premieres of original compositions that had been written specifically for them by nine members of the National Association of Composers USA (NACUSA), San Francisco Chapter. They performed original works by several composers at the American Society of University Composers' convention at San Jose State University. A composition was written for and premiered by the Menlo Brass Quintet at the Alea II New Music Concert at Stanford University. The Quintet's recording of the Bar-B-Que Suite, an original work by Idaho composer Dan Smith, was chosen as the winner of the Boise Brass Quintet's 2005 Brass Quintet Recording Competition.
The Menlo Brass have been sought out by composers from other countries and around the United States as a group willing – and able – to present a new work in its finest form.
The Menlo Brass Quintet regularly provides brilliant musical highlights for celebrations and church services at Menlo Park Presbyterian Church, First Baptist Church of Menlo Park, Epiphany Episcopal Church in San Carlos, and First Congregational Church of Palo Alto, to name but a few. They have also contributed lighter music for dozens of receptions, grand openings, and summer park concerts. The Menlo Brass has twice performed pre-game music, the National Anthem, and "7th inning stretch" tunes at San Francisco Giants baseball games.
Photo Gallery

For more information about the individual quintet members, click below:
Dan Hallock, trumpets

Mike Pakaluk, trumpets

Brian Holmes, horn

Barbara Sigler, trombone

Jonathan Seiberlich, tuba